Warehouse Order Policies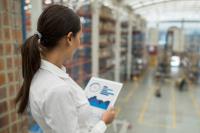 An order policy refers to a set of procedures that a business follows to establish when to replenish stock (e.g. how much to order and the size of the individual orders).
Within SYSPRO, order policies refer to the rules that SYSPRO applies when calculating suggested replenishment orders for purchased or manufactured stock items. The rules let you apply the order policies that your company has formulated.

PDF version
Copyright © 2023 SYSPRO PTY Ltd.