Insights & Reporting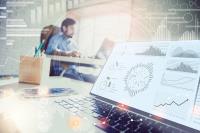 Insight and reporting tools increase decision-making capabilities with greater visibility into operational performance.
Measure and improve performance across an entire operation and empower your workforce to meet goals and targets aligned with critical business drivers.
SYSPRO OData

The SYSPRO OData feature lets you connect securely to SYSPRO data without direct SQL access and retrieve data for use by third-party applications. It is a future-proof technology that provides a RESTful API to the SYSPRO database and allows OData-compliant applications to query SYSPRO data in a standard and controlled manner.
Although it is available for both on-premise and cloud solutions, SYSPRO OData is the only mechanism available when applications need access to SYSPRO data in the SYSPRO Cloud ERP environment (the SYSPRO Cloud ERP platform doesn't allow direct database access by any application or personnel).

Read more...
Open Reporting API

The Open Reporting API lets developers and external applications call SYSPRO to run and distribute documents directly in the external application.
Leveraging the SYSPRO Reporting Service Server infrastructure, developers can query the SYSPRO database and produce the required documents which are added to the print queue from where they can be viewed, executed and managed. Developers can access the document via the document queue for further automation (a destination code indicates the origin of the queue item).

Read more...
Copyright © 2022 SYSPRO PTY Ltd.