SYSPRO Languages and Translation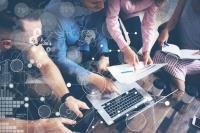 SYSPRO is a global product that is sold and used in countries across the world. Because of this, it has been designed with an inherent ability to interact with the user in various languages.
Although the core product is written in US English, multiple languages are catered for in the form of dictionaries that are supplied with the product – one for each standard language.
For languages not currently supported, you can customize the user interface by creating your own custom dictionary using SYSPRO's text-based dictionary, which enables translations to virtually any other language.

PDF version
Starting

Installation considerations
The following standard language packs are available to download from the SYSPRO Installer Application (via the Product Selection for Release screen):
SYSPRO 8 Language Pack - French

SYSPRO 8 Language Pack - Chinese

SYSPRO 8 Language Pack - German

SYSPRO 8 Language Pack - Russian

SYSPRO 8 Language Pack - Spanish

Restrictions and Limits
The general areas to be aware of regarding limitations with language translation are as follows:
SYSPRO is not verified to work on non-English operating systems. Therefore, for all languages, the Microsoft Windows operating system (on both the client and the server) must be English, accompanied by a language pack if required.

The following modules are not available with language translation and therefore remain in English:

SYSPRO Analytics

SYSPRO Point of Sale

Business objects are not available for translation in the following languages:

Vietnamese

Slovakian

Slovenian

Certain documentation and other collateral are not translatable and therefore remain in English, regardless of any other language configured.

These include:

SYSPRO online Help (i.e. pressing F1 inside any program)

Training and support documentation

Software Development Kit documentation

SYSPRO website (www.syspro.com)

SYSPRO InfoZone
Solving

FAQs

Troubleshooting

What if something doesn't translate correctly?
You can troubleshoot as follows to establish where the problem lies:
Check that your dictionary is being used by verifying the login dialog and some of the initial captions shown on the SYSPRO menu.

If this doesn't work, check that you have saved the language dictionary on the application server in either the \Base or \Base\Settings folder, with the name Lang_XX.TXT (where XX is your two-character language code).

Next verify that your SYSPRO shortcut has the property /Lang=XX appended to it (where XX is your two-character language code).

If this works but some phrases are still not translating, proceed as follows:

Verify that the English phrase is included exactly as shown and starts on a line that begins with a colon (:).

Verify that the very next line in the dictionary contains the foreign language phrase on a line that begins with a greater-than sign (>).

Verify that you have not duplicated the English phrase later in the dictionary, as the last occurrence of duplicate entries is used.

Check you have not inserted special characters into the dictionary that could be corrupting the dictionary.

Why does the MRP Calculation fail when performing the Bulk Insert into

Microsoft SQL Server

?
When using a foreign language in SYSPRO (particularly any of the Unicode languages) you may find that your MRP Calculation fails when it does the Bulk Insert into Microsoft SQL Server.
This is because a code page is passed as well when SYSPRO issues a Bulk Insert command to Microsoft SQL Server.
By default, this is set to 1252.
Proceed as follows to correct this:
Determine the correct SQL Server code page that you require.

You can check this through the following link: https://technet.microsoft.com/en-us/library/ms186356(v=sql.105).aspx

Within SYSPRO, open the Setup Options program and navigate to the SQL System Setup form (Setup Options > System Setup > SQL).

Input your required code page number against the Bulk insert code page setup option.

For example:

Code 54936 for Simplified Chinese.

Save your changes and exit the program.

Log out of SYSPRO for your changes to take effect.

Log back into SYSPRO and run the MRP Calculation again.
Copyright © 2023 SYSPRO PTY Ltd.