Digital Business Platform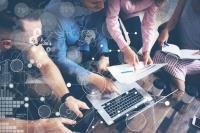 A combination of technologies that enables an organization to deliver digital business capabilities, SYSPRO's Digital Business Platform supports any customer organization that needs to build their own platform (or multi-purpose integration hub) to interact with other platforms or integrate all of their disparate systems into a single platform that is integrated directly into SYSPRO.
SYSPRO Languages and Translation
This topic explains how SYSPRO has been designed with an inherent ability to interact with users in various languages, as well as how to configure these within your own environment.

Read more...
Copyright © 2023 SYSPRO PTY Ltd.