SYSPRO Avanti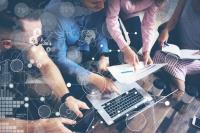 SYSPRO Avanti is SYSPRO's web-based software offering. Avanti (an Italian word meaning forward or ahead) is designed to run SYSPRO's applications in the private or public cloud, but can also be deployed on-premise.
SYSPRO Avanti can be used in parallel with the SYSPRO Windows Client version, allowing a user to use either version to complete the same task - they both use the same user credentials and concurrency licensing models.

Read more...
Exploring

Where it fits in?
SYSPRO Avanti is accessible on any device, on any platform, from anywhere.
You can choose to deploy either the Windows or the web-based solution. A dual user interface provides customers with the ability to select the best one for the specific task at hand.
Benefits
Familiarity

SYSPRO Avanti will be quite familiar to customers who are used to the SYSPRO Windows Client version, as the behavior of the application is designed to be similar.
Ease of deployment

SYSPRO Avanti does not require any installation on the Windows desktop or device. All you need is a web browser.

Consistent design across all applications

SYSPRO Avanti is designed to be intuitive and easy to navigate. It has consistent layouts that make it easier for users to complete tasks with minimum clicks.

Tailoring

SYSPRO Avanti has a Visual Designer that allows administrators to change the layout of any application, and to add or remove functionality. This allows customers to streamline any operation.

Additionally, some of the customization implemented in the same SYSPRO Windows client application, is automatically applied in SYSPRO Avanti. Users can also create completely new functionality and have this available in SYSPRO Avanti.

SYSPRO Avanti

Architecture
SYSPRO Avanti is built using modern web technologies and technically has the following characteristics:
SYSPRO Avanti is a single-page application (SPA)

This allows SYSPRO Avanti to provide an experience akin to a native application on either a mobile device or a desktop browser. SYSPRO Avanti improves performance because only data is transmitted to the browser, which takes less time and bandwidth than constantly sending fully constructed HTML pages.

SYSPRO Avanti is a responsive web application

The design of the user interface is fluid, meaning the web page content automatically fits into the available screen size, whether you are using a desktop browser or a smart phone. In short, SYSPRO Avanti ensures that it is effective and easy to use on any device.
The following provides a high-level technical overview of the SYSPRO Avanti architecture. It details the different deployment tiers as well as the technologies used by SYSPRO Avanti along with the key benefits.
The technologies discussed are both from an on-premise and cloud deployment perspective.

Tier 3 - Client (The Browser)
The client tier is the initial touch point for any users wanting to make use of SYSPRO Avanti.
Using a web browser that supports HTML 5, a user can browse to the website where SYSPRO Avanti has been installed.

All user interface elements in SYSPRO Avanti have been built using modern web based technologies such as HTML 5, JavaScript and CSS3.

SYSPRO Avanti has been developed from the ground up to adhere to responsive web designs, which enables it to run on any device and any platform, regardless of form or size factor. As the size of the device or web browser increases or decreases, SYSPRO Avanti automatically adjusts itself to best suit its environment.

SYSPRO Avanti has also followed the SPA (Single Page Application) design philosophy. This allows data to be dynamically bound to a page instead of the page being regenerated all the time, thus saving time, bandwidth and increasing the overall performance. This modern design also avoids disruption in the users experience within the application.

SYSPRO Avanti is delivered via a web browser and requires no prerequisites or software to be installed on the user's machine, making SYSPRO Avanti have a zero footprint on the client.
Tier 2 - Avanti Website / Server
Tier 2 handles the requests and responses from the SYSPRO Avanti web browser to the SYSPRO Application Server.
This tier can be installed on a traditional Windows Server running Internet Information Services (IIS) and is purposefully designed to run in the cloud, but can run on premise just as effectively.

The SYSPRO Avanti website can be secured by the administrator using SSL. The data in transit from the website to the web browser and vice versa is compressed by the SYSPRO Avanti infrastructure and provides compression levels of up to 95%, thus adding to the overall performance.

A web technology called WebSockets in conjunction with Signal R allows for robust communication between the SYSPRO Avanti website and the web browser.

With this technology, SYSPRO Avanti can reconnect to the SYSPRO App Server and web browsers when there is a drop-in network connectivity, once again adding to the reliability of SYSPRO Avanti.

When running SYSPRO Avanti on-premise, it has been optimized to have an auto update setting. This allows any new SYSPRO Avanti features released to be updated on the SYSPRO Avanti website automatically, without the need of the administrator.
Tier 1 - SYSPRO App Server
The sole responsibility of the SYSPRO 8 Avanti Initialization Service is to perform a handshake between the SYSPRO executable and the website for each user that has logged on.
A few new tables are included in the SYSPRO SQL Server company wide database which are used to maintain state for the users using SYSPRO Avanti.

Terminology

Cards
Cards are pre-built discrete functional components. A card is a self-contained HTML5 page whose data is derived typically (but not exclusively) from a business object.
A card may run as a separate entity in its own window or can be embedded in a view.
A card may require a

key value

such as a customer or stock code key to execute.
A card that doesn't require a key value, is known as an

Insight card

and display information such as bank balances or sales order commitments.

SYSPRO Avanti

ships with a set of pre-built cards, but it is relatively easy to construct new cards for any additional required functionality.
Use the

Visual Designer

program to add a card to any view.

Workspaces
Workspaces are customizable dashboards in SYSPRO Avanti that supply user roles with everything they need to perform their tasks efficiently and effectively.
They are essentially web views for roles and can contain anything that can be designed in the Visual Designer (e.g. Business Insights, Program Tiles, Charts, Flow Graphs, Cards, Grids, Forms, and any customized panes associated with the role itself).
A workspace is a way of grouping tasks or processes together in a way that is meaningful or relevant for an individuals role (i.e. similar to a Favorites menu, except that it is defined at a role level).
Multiple workspaces can be created for each role (e.g. daily, weekly and monthly tasks).
There are two types of workspaces in SYSPRO Avanti:
Standard template workspaces

These are shipped with the core SYSPRO product and located in the \Base\Samples folder:

Inventory Manager
Debtor Controller
Inventory Controller
Operations Manager

Sales Manager

The role designer can use these templates as a base when designing workspaces for various roles.

Custom workspaces

These are created, designed and deployed by the role designer or system administrator.

When creating custom workspaces, they can either use the templates as base or creating them from scratch.
Starting

Prerequisites
Ensure that you have installed the SYSPRO 8 Avanti Initialization Service and SYSPRO Avanti using the SYSPRO Installer Application.

Technology
The following technology prerequisites are applicable to using SYSPRO Avanti:
SYSPRO 8 Avanti Initialization Service

Service prerequisites:

This service must be installed on the same application server as the SYSPRO 8 Server.

Microsoft .NET Framework 4.6

SYSPRO 8 Service Upgrade Manager

SYSPRO 8 e.net Communications Load Balancer

A valid endpoint must be configured in the Setup Options program of SYSPRO 8.

SYSPRO Avanti Web Service

Web application prerequisites:

We recommend that you use Windows Server 2019 (or higher) when running SYSPRO Avanti.

Microsoft .NET Framework 4.6

SYSPRO 8 Server

SYSPRO 8 Service Upgrade Manager

SYSPRO 8 e.net Communications Load Balancer

A valid endpoint must be configured in the Setup Options program of SYSPRO 8.

SYSPRO 8 Avanti Initialization Service connection

Internet Information Services (IIS) 7.0 Core Web Engine Feature

Internet Information Services (IIS) 7.0 World Wide Web Publishing Feature

Internet Information Services (IIS) WebSocket Protocol Feature

SYSPRO Installer
The following prerequisites are required to run the SYSPRO Installer Application:
Valid InfoZone login credentials on www.syspro.com.

Admin privileges on the computer(s) that will be used.

The deployment service is installed once per network and must be installed on a discoverable machine that is on 24/7 and which has constant Internet connectivity.

Restrictions and Limits
Currently, Single Sign-on is not supported with the following platforms:

SYSPRO Espresso

SYSPRO Supply Chain Portal

SYSPRO Avanti (when using local Active Directory)

SYSPRO Avanti supports Single Sign-on capabilities if you use Microsoft Azure Active Directory B2C.
Solving


Error messages

Validating credentials - Operator '_ESP' has been locked out


Cause
This message is displayed in SYSPRO Avanti when you attempt to use the Change password function, if the _ESP operator has been locked out by the system administrator.

Solution
For the Change password feature to function correctly, the system administrator must disable the Operator locked out option against the _ESP operator in the Operator Maintenance program.
Using

Enhancements
The following indicates the recent enhancements made to SYSPRO Avanti in SYSPRO 8:

Hints and Tips
Select the help icon from the toolbar to view an interactive help tour of the program.

Help text will appear in a speech bubble, explaining what the program is used for and how to use it.
Although lists of data are shown by default in popup windows that can be re-sized and repositioned in the browser, you can embed lists on the page using the

Visual Designer

program.
Cards can be positioned anywhere within the browser, and can be minimized or maximized.
By default, two different timeout settings apply in

SYSPRO Avanti

:

A timeout of 10 minutes is imposed on any user who logs in to SYSPRO Avanti.

After this timeout the system requests the operator's password to continue (even if that password is blank).

An additional timeout (in minutes) can be imposed after the password window has appeared.

If this timeout expires, SYSPRO Avanti exits completely back to the Login screen.

You can adjust the period of the timeout using the

Timeout before password required

option (

System-wide Personalization

).
Referencing
The design of SYSPRO Avanti relies on guidelines to provide a consistent and intuitive user interface.
Action buttons are always located on the right of the toolbar of the current application.
Entry fields on the toolbar are located on the left.
Descriptions for form fields appear beneath the key value.

Toast notifications pop up when entries are not correct. 
Copyright © 2022 SYSPRO PTY Ltd.