Espresso Xpress Cart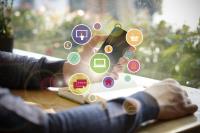 The Espresso Xpress Cart provides manufacturers and distributors with an efficient, fast and simple-to-use mobile sales ordering app, extending the sales order experience directly to customers.
This is achieved using flexibility, efficiency, ease and speed of capturing orders online, mobility on the road and improved customer ordering experience.
Exploring

Where it fits in?
Things you can do in this application include:
Online ordering via a digital shopping cart.
Conduct direct comparisons, where differences are highlighted in red.

Stock codes can be categorized into buckets based on various criteria (e.g. unit of measure, product class or product group).

For example: Bicycle accessories can be categorized together.

Only one category can be specified at a time, with its relevant subdivisions.

Customizable according to user preferences (e.g. grid vs card view).
Ability to add images of your stock items.
Solving

FAQs

How do I add an Xpress Cart entry?
From SYSPRO Espresso open the Xpress Cart application.

Browse for and select the customer.

Add order lines to your cart using any of the following methods:

Select items from a product list

Select items from your recent purchases list

Selects item from categories

Add a stocked or non-stocked item, or comment line.
Select the View Items option.

The Xpress Cart Lines screen is displayed and serves as a check-out screen.

Enter additional information, such as the customer purchase order number or ship date.

Select End Order and close the application.

How do I change grouping/categories in the Search Configuration?
The following scenario outlines how to change the grouping from by product class to by stock unit of measure.
From SYSPRO Espresso, open the Search Configuration program.

Expand the SYSPRO folder.

Select Stock code for sales order Xpress cart.

Select the Fields to return option.

Select to Include the fields (or drag-and-drop the field to the appropriate position in the list).

Ensure that the Grouping Espresso usage is set against the correct field.

You can use the Field Chooser to see which field has been associated with the Grouping Espresso usage.

Select Apply and Save.

Select the Search level.

Select Save.

Log into SYSPRO Espresso to view your updated categories.

How do I compare stock codes?
From SYSPRO Espresso, open the Xpress Cart application.

Browse for and select the customer.

Select the Compare Items option.

This option can be accessed from the following screens:

Product lists

Recent purchases

Categories

Select the check-box of any two items you want to compare.

The differences are highlighted in red.
Using

Hints and Tips
This application performs best when used on a desktop or tablet.
This application should be used in

SplitView

mode in

SYSPRO Espresso

.
Copyright © 2022 SYSPRO PTY Ltd.