Microsoft Edge WebView2 Browser Control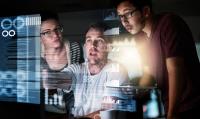 This article provides details regarding the Microsoft Edge WebView2 Control capabilities available within the SYSPRO Desktop from SYSPRO 8 2022.

PDF version
Overview
The SYSPRO Desktop client web browser capabilities have been enhanced to utilize the latest Microsoft Edge WebView2 control technologies, allowing for rich and secure web browser experiences within SYSPRO.
This provides a more responsive browser experience and improves the compatibility between third-party web-based solutions and SYSPRO.
Deployment
The following indicates how to deploy the Microsoft Edge WebView2 control for use in the SYSPRO Desktop client:

New installs
Any new installs of SYSPRO 8 2022 will automatically include the Microsoft Edge WebView2 runtime, as it is part of the SYSPRO client install.

Updating from a prior release
As Microsoft have begun rolling out the Microsoft Edge WebView2 Runtime to Microsoft Windows 10 and Microsoft Windows 11 users, you may already have it installed.

You can verify if you have this installed by checking the Apps and Features program within Windows.

Alternatively, you can download the runtime from the following link:

https://developer.microsoft.com/en-us/microsoft-edge/webview2/

When downloading the runtime, select either the Evergreen Bootstrapper download button, or the X64 button beneath the Evergreen Standalone Installer option.

Do not install the Fixed Version.
Where Used

Microsoft Edge
From SYSPRO 8 2022, the following features use Microsoft Edge exclusively:
Embedded Analytics

Visual Designer (web views)

SYSPRO Main Menu (browser control)

SYSPRO Web Views and Cards

Internet Explorer
Over time, other features within SYSPRO may be re-engineered to make use of Microsoft Edge. Currently, the following areas still use Internet Explorer when calling the browser:
Accounts Receivable:

Customer Query (ARSPEN)

Contact Management Query (CMSPEN)

Account Query (CMSPQA)

Administration:

Browser Queries and Themes (IMPSTY)

e.net Browse Setup (IMPUBR)

Syspro Browser (IMPURL)

Custom Panes (web browser)

General Ledger:

GL Define Financial Reports (GENP70)

GL XML Report Viewer (GENP81)

Report Writer:

Create Report (REPP75)

Recent Reports (REPP76)

RW XML Report Viewer (REPP81)

RW XML Wizard (REPPZ3)

Sales Analysis:

Lost Sales Import (SALPLI)

Sales Orders:

Sales Order Query (SORPEN)

SYSPRO Help (when launched from within SYSPRO via the F1 keyboard shortcut):
FAQs

What platforms support

Microsoft Edge WebView2

?
The following systems support Microsoft Edge WebView2:
Windows 11

Windows 10

Windows 10 IoT Enterprise LTSC x32 2019

Windows 10 IoT Enterprise LTSC x64 2019

Windows 10 IoT Enterprise 21h1 x64

Windows 8.1

Windows 7 **

Windows Server 2022

Windows Server 2019

Windows Server 2016

Windows Server 2012

Windows Server 2012 R2

Windows Server 2008 R2 **
**WebView2 support for Windows 7 and Windows Server 2008 R2 have the same support timeline as Microsoft Edge.
For more information, see https://learn.microsoft.com/en-us/microsoft-edge/webview2/.

What happens if I don't have

Microsoft Edge WebView2

installed?
If the Microsoft Edge WebView2 control is not installed when you access one of the features that use Microsoft Edge exclusively from SYSPRO 8 2022:
Most of SYSPRO will simply revert to using Internet Explorer. However, you may experience problems when accessing one of the features that use Microsoft Edge exclusively.
View the Deployment section of this article for details on how to install the Edge WebView2 Runtime.
Copyright © 2023 SYSPRO PTY Ltd.