Web Views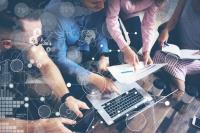 Web Views are self-contained HTML5 pages that can include Fields, Charts, Cards and Tiles.
They provide a complete picture on a single screen and have been designed to display the most important information in a manner that is intuitive and simple to use.
You can design and customize your own Web Views using the Visual Designer program. Once deployed, these Web Views can be viewed by pressing F11 in the program for which one was created.
SYSPRO ships template Web Views with the product, which are located in the \Base\Samples folder of your SYSPRO installation.
Starting

Prerequisites
Ensure that the

SYSPRO e.net Communications Load Balancer

service is installed and running.

Ensure that you have configured the Server name, SOAP port and REST port details against the E.Net Service Details tab of the System Setup program.

You can obtain these details from the SYSPROWCFHostService.exe.config file that is located on the server (\Program Files\SYSPRO\SYSPRO WCF Service\Port-Number)

Security

Activities
You restrict operator access to activities within a program using the Operator Maintenance program.

VBScript editing / Design Web Views / Design Customized Panes
Controls whether an operator can edit VBScripts or change customized panes.
It also controls whether an operator can access the Visual Designer program (displayed from the sub menu of the

icon).
This does not apply to importing customized panes, which is controlled by the Allow to import customized panes activity.
Solving

FAQs

Why are existing web views not appearing in SYSPRO after updating to the latest release?
Prior to
SYSPRO 8 2019 R1
, any customized web view by operator or role surfaced in both SYSPRO and
SYSPRO Web UI (Avanti)
.
From SYSPRO 8 2019 R1 onwards you must explicitly state whether a web view is targeted for SYSPRO or SYSPRO Web UI (Avanti).
Because any pre-existing web view is assumed to be for SYSPRO Web UI (Avanti), if you want existing SYSPRO web views to appear in later versions of SYSPRO, you must rename the .JSON file to include a _SYSPRO extension (e.g. UX_OperatorCode_ProgramLZ_SYSPRO.JSON).
The .JSON file resides in your \Base\Settings folder (or the Role_xxx folder if the user interface is configured by role).
You can also rename the file using the Save as function from within the Visual Designer. You will be prompted to indicate the type of web view you want to save (i.e. Avanti or SYSPRO Client).

How do I create a Web View?
Select the icon from a window in SYSPRO.

Select the Design Web View option from the context menu.

The Visual Designer program is displayed.

You need to indicate whether you want to create the web view using an existing template or create one from scratch.

On the

Configure new layout section

screen indicate the elements you want to style.
Style the web view according to your preference.

Save the web view.

The web view is displayed when you reload the program.

How do I customize an existing Web View?
Select the icon from a window in SYSPRO.

Select the Edit Web View option from the context menu.

The Visual Designer program is displayed.

An administrator can design a web view for use in any SYSPRO program as long as the program was constructed using docking layouts.

Web Views can also be customized per role, but this is done using the Design UI Layouts SYSPRO Desktop function.
Copyright © 2022 SYSPRO PTY Ltd.