Toast Notifications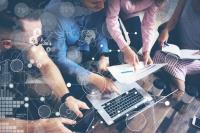 Toast Notifications are notification windows displayed briefly on the screen to alert you of a condition, before disappearing automatically without requiring any operator input.
Starting

Security

Activities
You restrict operator access to activities within a program using the Operator Maintenance program.
Solving

FAQs

How do I switch on Toast notifications?
From the Setup Options program load the System-Wide Personalization System Setup form (Setup Options > System Setup > System-Wide Personalization).

Switch on the Enable Toast Notifications option.
Using

Hints and Tips
Although toast notifications can't be customized in the traditional sense of the word, you can set a delay time to keep the notification displayed on screen and you can configure it to close once you start typing.

If the message contains a colon character (:) it is treated as a data notification.

You can view the last 20 data notifications by selecting the Notification icon from the SYSPRO Ribbon bar.
Copyright © 2022 SYSPRO PTY Ltd.