Manufacturing Operations Management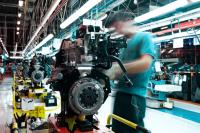 SYSPRO's Manufacturing Operations Management solution helps manufacturers measure performance in a drive towards world-class standard of operations for overall equipment effectiveness (OEE), total effective equipment performance (TEEP) and overall labor effectiveness (OLE).
It increases productivity and lowers costs by minimizing loss within the business. Operational efficiencies are optimized through better workflow of core manufacturing activities (e.g. schedule, publish, collect, track, analyze and improve).
It facilitates the connection of machines and other devices to digitize the factory (Industry 4.0) and gain competitive advantage.
Exploring

Terminology

Manufacturing Operations Management
This is a Manufacturing Execution System (MES) that helps reduce loss by improving delivery, lowering production costs and optimizing the use of resources by providing the complete process of scheduling, planning, publishing, collecting, analyzing and improving resource usage.
Starting

Prerequisites

Installation considerations
Copyright © 2022 SYSPRO PTY Ltd.