Job Nesting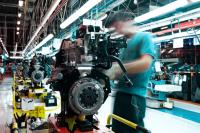 The Job Nesting feature lets you combine several small jobs into one larger nested job process. This lets you view and select combinations of work orders that can be batched together into larger processes (e.g. you can nest multiple jobs using the same raw material or components).
The result is a reduction of waste and operational costs, optimized use of raw material and resources, and improved efficiencies.

PDF version
Exploring

Where it fits in?
Nested-based machining typically involves placing a single sheet of material on a CNC router table. The router is programmed to process components based on the machine's capabilities, in a single setup without any material handling required, other than loading and unloading.
The Production Planner typically chooses any combination of work orders to nest together based on their sharing a commonality (such as the same raw material or the same work center) to create a combined job nest.
The components in a nested-based process are positioned in a pattern that will achieve the best possible material utilization.
For example:
When making a pair of denim jeans, the fabric is laid out and the pattern cut based on the different parts of the jeans (e.g. front, back, pockets and waist).
Using

Process

The programs related to this feature are accessed from the Program List of the SYSPRO menu:
Program List > Work in Progress > WIP Job Nesting

Program List > Work in Progress > Setup
Create and confirm a job nest using the Job Nest Capture program.

Once jobs are linked to a job nest, they can't be modified.

Assign raw material to the job nest using the

Job Nest Capture

program.

Process the job nest and issue material and labor using the WIP Nest Processing program.

Export the job nest to the external nesting software using the Job Nest Capture program.

The nest is processed and information sent back to SYSPRO.

Import the job nest details to update information such as percentage utilization, quantities complete and scrap / remnant amounts.

After the import, the following occurs automatically in SYSPRO:

issuing of negative material and labor on jobs to distribute costs in the nest.
issuing of material and labor to jobs using the WIP

Job Issues

and WIP

Labor Posting

programs.
depending on the option selected at the

Scrap from job nest

field in the

Work Centers

program, the remaining materials will be either scrapped (posted to the GL account) or received back into stock (in a remnant bin).

Complete the job nest using the WIP Nest Processing program.
Copyright © 2022 SYSPRO PTY Ltd.