Preferred Supplier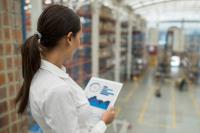 The Preferred Supplier feature lets you configure and manage sourcing policies for your stock codes.
A sourcing policy determines who is the preferred supplier of a stock item and helps a company stay competitive by ensuring that purchasing agreements and policies are upheld when creating requisitions and purchase orders.
A purchasing strategy benefits buyers and suppliers - suppliers have guaranteed sales, while buyers can negotiate favorable terms.

PDF version
Starting

Security

eSignatures
You can restrict access to the eSignature transactions within a program at operator, group, role or company level (configured using the eSignature Setup program). Electronic Signatures provide security access, transaction logging and event triggering that gives you greater control over your system changes.

Restrictions and Limits
Sourcing policies are captured for a certain period. Therefore, only one sourcing policy can be in force at a time (i.e. date overlapping is not allowed).
Solving

Why don't you drop us a line with some useful information we can add here?
Using

Process
To implement a sourcing policy and preferred supplier setup for a stock code, you need to do:
Configure the applicable stock codes to use preferred suppliers by enabling the Use preferred supplier option within the Stock Code Maintenance program.

Create the sourcing policies you require using the Sourcing Policy Maintenance program.

Configure the applicable eSignatures for specific operators, roles, groups or company-wide using the eSignature Setup program.
When adding a purchase order or requisition for a stock code against which there is an active policy, it is verified and a preferred supplier is suggested for that demand.
This preferred supplier may, however, be overridden by a different supplier if the Inv Preferred supplier overridden eSignature is allowed.
When a purchase order or requisition is added, changed or deleted, the sourcing policy's preferred supplier details are updated to reflect the demand.
Copyright © 2022 SYSPRO PTY Ltd.