SYSPRO Self-healing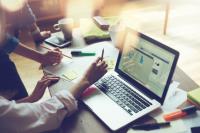 This refers to the automated process (in a client/server environment) where various components of SYSPRO are updated on the client - particularly useful when many workstations are located in different geographic areas.

PDF version
Exploring

Where it fits in?
The self-healing process is activated when the SYSPRO Installer application is used for any of the following:
A first time installation of

SYSPRO 8

An update to a new

SYSPRO 8

release
One or more hotfixes are applied
When a client connects to the server where the self-healing process has been activated, each software component is copied from the server to the client as required. This ensures that the client is updated to match the server software.
This is generally a targeted process in that only the component(s) required at that point in time are copied to the client.
There are some exceptions, where a once-off transfer of a group of files occurs the first time the client has connected (after the server update was applied).
Solving

FAQs

What are managed assemblies?
Managed Assemblies are Microsoft .NET User controls typically developed using the Microsoft .NET Framework.
These include standard libraries shipped as part of the SYSPRO product and may also contain components designed by a third party developer to perform custom functionality.

How do I upload Microsoft .NET User controls?
Use the Upload Files to Server program (SYSPRO Ribbon bar > Administration > Customization) if you are a developer and have created new, or updated existing, Microsoft .NET User controls (i.e. managed assemblies) that require loading onto the server.
This will then transfer your .NET User Control to the server in such a way that the files will also be self-healed to each client.

What are Codejocks?
Codejocks are reusable software components that enhance the Graphical User Interface of Windows Desktop Applications.
Copyright © 2022 SYSPRO PTY Ltd.