Security Settings Dashboard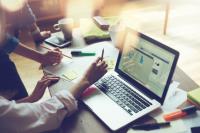 Configuring security and ensuring consistency across various operators is a complex process that typically involves a number of programs.
SYSPRO's Security Settings Dashboard program lets SYSPRO administrators query operator security settings within a single program.

PDF version
Exploring

Where it fits in?
Things you can do in this program include:
Query and view security information.

Verify which operators have access (and how the access is configured) to various securable entities.

View possible program conflicts.

Amend security configuration in related programs via smart links.

This program is accessed from the Program List of the SYSPRO menu:

Program List > Administration > Setup
Starting

Security

Groups
You can restrict operator access to programs by assigning them to groups and applying access control against the group (configured using the Operator Groups program).

Restrictions and Limits
Because the access control settings for the elements listed below are all displayed using a single list view, we don't recommend you customize this control (e.g. adding custom columns relating to master data):

Warehouses
AR Branches
AP Branches
Banks
Job classifications
Account types
Contact properties
Contact classes
Contact types
Contact categories
Contact territories
Using

Hints and Tips
Columns in a list view are sometimes hidden by default. You can reinstate them using the Field Chooser option from the context-sensitive menu (displayed by right-clicking a header column header in the list view). Select and drag the required column to a position in the list view header.

Fields on a pane are sometimes removed by default. You can reinstate them using the Field Selector option from the context-sensitive menu (displayed by right-clicking any field in the pane). Select and drag the required fields onto the pane.

The captions for fields are also sometimes hidden. You can select the Show Captions option from the context-sensitive menu to see a list of them. Click on the relevant caption to reinstate it to the form.

If the Show Captions option is grayed out, it means no captions are hidden for that form.

Use the smart links provided in the dashboard to instantly access the related program where security is configured.

For example:

Using the smart link provided in the Operators list, you can query and maintain security settings for an operator directly in the Operator Maintenance program.

To refresh the information displayed in the dashboard, select the Refresh button from the program toolbar.

This is useful if you have changed any security configuration while the dashboard is open.
Copyright © 2022 SYSPRO PTY Ltd.