SYSPRO Point of Sale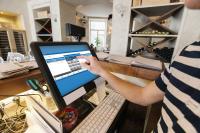 SYSPRO Point of Sale is a fully-integrated software solution that facilitates over-the-counter sales transactions by accepting payments or deposits efficiently. It is used to sell stock directly to a customer, enabling immediate stock allocation and payment (i.e. performed at the point of transaction).
It includes complete offline trading functionality, which allows the system to keep working without interruption if the network or main server goes down. Replication and synchronization ensure that data consistency is maintained between the servers.
Exploring

Where it fits in?
Making the right business decisions at the right time is what makes your business profitable. That's why with any customer facing process you need a cutting-edge, feature-rich and versatile point-of-sale system, which seamlessly integrates with your Enterprise Resource Planning system, and provides you with real-time information about stock levels, sales and customer balances.
SYSPRO Point of Sale is specifically designed to handle the critical functions of your business as effortlessly, efficiently and simply as possible. After all, cash is key to your business, so you need a proven and powerful point-of-sale solution that works as hard as you do.
Benefits:
Real-time effortless posting & integration

Always on

Easy to use

Fully integrated to SYSPRO

Protected & robust security options

E-Commerce integration

Mobile management & reporting

Reduced network traffic

Customizable business functionality

Simplified payment process

State-of-the-art touch screen ready interface

Hassle-free maintenance
SYSPRO Point of Sale is specifically targeted at manufacturing and distribution businesses that have a cash-and-carry or retail arm, enabling them to collect and control the payment of direct consumer sales.
Environments where SYSPRO Point of Sale would be an ideal fit:
Manufacturers who are also retailers

Make-to-order companies

Cash 'n carry businesses

Retailers with account and cash based sales
Starting

Prerequisites
The following technology prerequisites are applicable to using this feature:
Microsoft .NET Framework 4.5

SYSPRO 8 Avanti Initialization Service

SYSPRO 8 Point of Sale e.net Communication Service

SYSPRO 8 Point of Sale Services

SYSPRO 8 Runtime

Internet Information Services (IIS) WebSocket Protocol

Feature

Installation considerations
You can download the install files for SYSPRO Point of Sale via the SYSPRO Installer Application.
Currently, the components for installing SYSPRO Point of Sale are available as part of an ISO image and launched via an Autorun, however overtime this install will be incorporated into the standard way of installing SYSPRO software through the SYSPRO Installer Application.
Installing SYSPRO Point of Sale:

SYSPRO Point of Sale Installation Guide
Upgrading SYSPRO Point of Sale:

SYSPRO Point of Sale Upgrade Guide

Configuring
The following configuration options in SYSPRO may affect processing within this program or feature, including whether certain fields and options are accessible.

Setup Options
The Setup Options program lets you configure how SYSPRO behaves across all modules. These settings can affect processing within this program.

Company Tax Options
Setup Options > Tax > Company Tax Options
Rounding options

Tax/invoice round required

Round values

Round to nearest

Sales Orders Preferences
Setup Options > Preferences > Distribution > Sales Orders
Using

Enhancements
The following indicates the recent enhancements made to SYSPRO Point of Sale in SYSPRO 8:
Copyright © 2021 SYSPRO PTY Ltd.