Customize and control application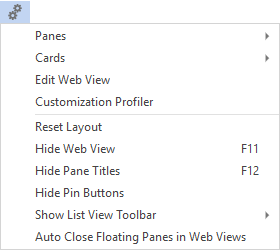 Option
Description

Panes

This lets you choose from a list of panes in the current docking layout.

The panes displayed in gray are available for selection.

Cards

This lets you select a Key Card or Insight Card to be displayed as a floating pane.

Design Web View / Edit Web View

This opens the Visual Designer to customize web views.

Customization Profiler

This opens the Customization Profiler program to view and analyze customizations that have been applied to the application or main menu.

The program can be loaded from any docking pane caption or menu pull-down (right-click the title bar of a pane and select Customization Profiler from the context menu). A list view displays all the customization changes.

Reset Layout

This restores forms to their default position, including those that were previously closed. Customized or associated panes remain in their current location and the content and sequencing of forms or list views is not affected.

Hide/Show Web View

This hides or shows the web view for the program, if one exists (F11 toggles these captions).

Hide/Show Pane Titles

This hides or shows the docking pane captions (F12 toggles these captions).

Hide/Show Pin Buttons

This hides or shows the pin button on all docking panes.

This is only available from the SYSPRO Main Menu (i.e. not in individual programs) when the Minimalist user interface options is enabled, and operator is logged in using a role that is not allowed to save docking layouts.

Show List View Toolbar

This lets you indicate how you want to display the built-in toolbar for list views (i.e. Always, Never, or By List View).

Changing the Show built-in toolbar option in the System-wide Personalization program does not affect the operator's preference and setting to Always show the list view toolbar.

Auto Close Floating Panes in Web Views

This option is only available from the SYSPRO Main Menu.

This closes floating panes automatically when you click anywhere in a web view, or when you exit from an application.
Copyright © 2021 SYSPRO PTY Ltd.