Manufacturing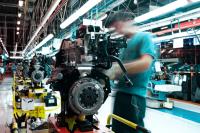 Anticipating marketplace disruptors, SYSPRO ensures governance and improved business efficiencies.
Ongoing improvement and continuous innovation provides industry-built capabilities that evolve with your needs.
Manufacturing Operations Management

SYSPRO's Manufacturing Operations Management solution helps manufacturers measure performance in a drive towards world-class standard of operations for overall equipment effectiveness (OEE), total effective equipment performance (TEEP) and overall labor effectiveness (OLE).
It increases productivity and lowers costs by minimizing loss within the business. Operational efficiencies are optimized through better workflow of core manufacturing activities (e.g. schedule, publish, collect, track, analyze and improve).
It facilitates the connection of machines and other devices to digitize the factory (Industry 4.0) and gain competitive advantage.

Read more...
WIP by Branch

The WIP by Branch feature extends ledger integration options to include integration at branch level (only job classification was available before). This means that each branch and job classification can have separate WIP ledger control accounts. Previously, you could only define a single WIP control account and WIP variance account per company.
You can enable WIP branches for the following:
Jobs
WIP inspections
Job numbering
Job classification

Read more...
Copyright © 2021 SYSPRO PTY Ltd.