Insights & Reporting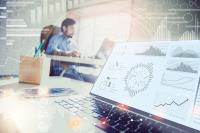 Insight and reporting tools increase decision-making capabilities with greater visibility into operational performance.
Measure and improve performance across an entire operation and empower your workforce to meet goals and targets aligned with critical business drivers.
Business Insights

Business Insights are essentially SQL scripts that are exposed as Tiles in a SYSPRO web view. These tiles are context-driven and enable you to act instantly on events, facilitating both informed business decisions and sound business behavior.

Read more...
Insight Tile KPI Definition

KPIs on tiles can be used to highlight values that approach or exceed pre-determined objectives or thresholds. This lets you proactively keep an eye on approaching targets. These targets could be a certain value, company-wide goal or a specific agreed target for a person or a role within the organization.

Read more...
Open Reporting API
The Open Reporting API lets developers and external applications call on SYSPRO to run and distribute documents directly in the external application.
Leveraging the SYSPRO Reporting Service Server infrastructure, developers can query the SYSPRO database and produce the required documents which are added to the print queue from where they can be viewed, executed and managed. They can access the document via the document queue for further automation (a destination code indicates the origin of the queue item).
Copyright © 2021 SYSPRO PTY Ltd.